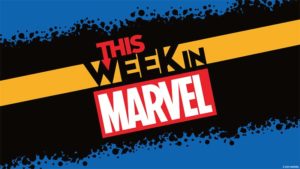 Marvel's longest-running podcast brings together voices behind Marvel Studios, Marvel Comics, Marvel Games, and Marvel's original scripted podcasts to share insider stories and a look ahead
This Week in Marvel, Marvel's flagship podcast series, hasn't missed a beat—or a week—since launching in 2011. And the latest episode marks a new audio milestone for Marvel: the 500th episode of the series.
Hosted by Marvel New Media VP & Creative Executive Ryan "Agent M" Penagos, Marvel New Media Senior Producer Lorraine Cink, and Tony Award winner James Monroe Iglehart, This Week in Marvel gives fans inside access to all the latest Marvel comics, TV, movies, games, toys, and beyond.
To celebrate the series' landmark 500th episode (available now on the SXM app, SiriusXM desktop player, Pandora, Apple, Spotify, and all major podcast platforms), Penagos and Cink are joined by incredible guests from across the House of Ideas. Go in-depth and behind-the-scenes to hear teases of the mighty Marvel shows you'll be watching, games you'll be playing, comics you'll be reading, and stories you'll be experiencing in this epic anniversary episode. Guests on episode 500 include:
Brad Winderbaum, Head of Streaming and Animation for Marvel Studios
C.B. Cebulski, Editor-in-Chief for Marvel Comics
Eric Monacelli, Senior Director, Product Development for Marvel Games
Tim Tsang, Creative Director for Marvel Games
Ellie Pyle, Director, Content Development for Marvel New Media
Continue reading