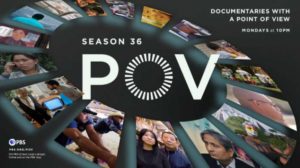 Award-Winning Series 'POV' Announces 36th Season Lineup; Illustrates Commitment to Diverse Voices, Boundary-Pushing Nonfiction Forms of Storytelling
Season premieres with Jon-Sesrie Goff's After Sherman on June 26; Features 16 titles including recent Oscar®-nominated documentary A House Made of Splinters and Oscar® Shortlisted feature Children of the Mist. POV airs on PBS, Mondays at 10p/9C and free streaming via the PBS App
Multi award-winning series POV, hailed as America's longest-running non-fiction series on television, enters its 36th season with a slate of 16 feature documentaries with themes devoted to caregiving, transnationalism, activism, childhood aspirations, accessibility, and intergenerational relationships.
The series' commitment to provide a public platform to showcase bold forms of nonfiction storytelling by filmmakers with diverse voices and perspectives brings audiences unforgettable protagonists with unique points of views. Half of Season 36's films are directed by women, and over two-thirds by filmmakers of color.
Celebrated films previously announced this season include POV alumni director Simon Lereng Wilmont and producer Monica Hellström's timely Oscar®-nominated documentary A House Made of Splinters. As the war in Eastern Ukraine takes a heavy toll on families living near the frontline, a small group of strong-willed social workers work tirelessly in a special kind of orphanage to create an almost magical safe space for kids to live in. In Vietnamese first-time director Hà Lệ Diễm's riveting Oscar® Shortlisted feature Children of the Mist, she details the challenges facing a Hmong girl living in rural Northern Vietnam caught between tradition and modernity.