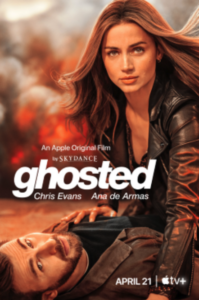 A new trailer for the upcoming romantic action-comedy "Ghosted" has been released, which follows Chris Evan's Cole, falling head over heels foran undercover spy named Sadie on the first date.
Evans and De Armas have previously collaborated on 2019's Knives Out and The Grey Man in 2022. Ghosted is directed by Dexter Fletcher behind Rocketman, The Offer, and Eddie and the Eagle.
The film is set to be released in Apple TV+ next month April 21, 2023.
Here's the film's synopsis:
Salt-of-the-earth Cole (Chris Evans) falls head over heels for enigmatic Sadie (Ana de Armas) —but then makes the shocking discovery that she's a secret agent. Before they can decide on a second date, Cole and Sadie are swept away on an international adventure to save the world.