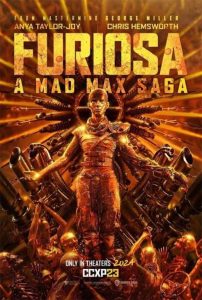 The first trailer from franchise veteran George Miller's "Furiosa: A Mad Max Saga" has been released.
The highly-anticipated post-apocalyptic action adventure features Anya Taylor-Joy stars as Furiosa, the character played by Charlize Theron in 2015's "Mad Max: Fury Road", as well as Chris Hemsworth as Warlord Dementus.
The films seems to be the origin of Furiosa, who was taken from her family and then joined up with a young Immortan Joe, previously played by Hugh Keays-Byrne in Fury Road, to lead the War Boys.
Fury Road, which starred Tom Hardy as Mad Max, was released in 2015 and was a critical and commercial hit. Hardy took over the iconic role from Mel Gibson who played the character in three prior Mad Max films, including the original in 1979.
Mad Max franchise creator George Miller also produced Furiosa, along with his longtime partner, Oscar-nominated producer Doug Mitchell ("Mad Max: Fury Road," "Babe"), under their Australian-based Kennedy Miller Mitchell banner.
The official summary says: "As the world falls, young Furiosa is snatched from the Green Place of Many Mothers and into the hands of a Biker Horde led by the Warlord Dementus. While two Tyrants war for dominance over the Citadel, Furiosa survives many trials as she plots a way back home through the Wasteland."