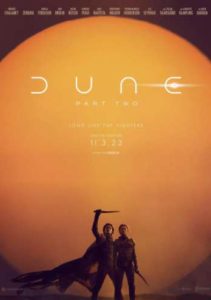 Dune Part Two has finally released its stunning new official trailer, giving fans a first look of what to expect from the film.
The film, directed by Denis Villeneuve, is a follow-up to the 2021 blockbuster hit Dune, which was itself an adaptation of Frank Herbert's classic novel of the same name.
The trailer gives fans a glimpse of the epic scale of the film, as well as returning cast Timothée Chalamet as Paul, and Zendaya as Chani. Also returning are Josh Brolin, Dave Bautista and Javier Bardem and introduces new characters played by Austin Butler and Florence Pugh.
The film will follow Paul, as he joins the Fremen and begins a spiritual and martial journey to become Muad'dib, while trying to prevent the horrible but inevitable future he's witnessed: a Holy War in his name, spreading throughout the known universe.
The film is set to be released by Warner Bros on November 3, 2023.