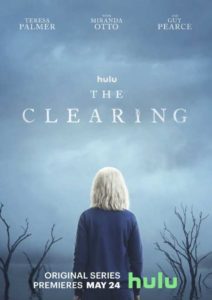 Based on the book In The Clearing by J.P. Pomare, the eight-part series is set to premiere with two episodes on May 24.
The series tells story of a woman "who is forced to confront the nightmares of her past in order to stop a secret cult intent on gathering children to fulfil its master plan."
"The Clearing" stars Teresa Palmer ("Discovery of Witches"), Miranda Otto ("The Unusual Suspects," "Homeland") and Guy Pearce ("Jack Irish," "Mare of Easttown") lead a stellar line-up of Australian talent including Hazem Shammas ("Safe Harbour"), Mark Coles-Smith ("Mystery Road"), Kate Mulvany ("The Twelve") and rising star Julia Savage ("Blaze," "Mr Inbetween").
Filmed across Victoria, "The Clearing" is an emotional and psychological thriller that follows the nightmares of a cult and a woman who's forced to face the demons from her past in order to stop the kidnapping and coercion of innocent children in the future.
It is directed by Jeffrey Walker ("Young Rock," "Lambs of God") and Gracie Otto ("Seriously Red," "Bump," "Deadloch"), and is created and written by Elise McCredie ("Stateless") and Matt Cameron ("Jack Irish"), with co-writer Osamah Sami ("Ali's Wedding").
Here's an early look at "The clearing":