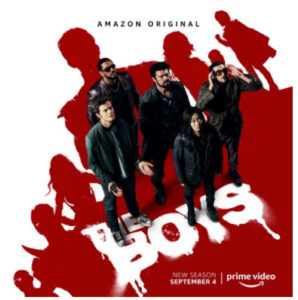 Fan Favorite Superhero Satire Will Drop Three Episodes on Premiere Day With New Episodes Every Friday Through October 9
June 26, 2020 – Amazon Prime Video today announced that the hit superhero satire The Boys will premiere the first three episodes of its second season Friday, September 4, 2020. New episodes will be available each Friday culminating in an epic season finale on October 9. The news comes on the heels of the cast coming together for a virtual event, hosted by season two guest star Patton Oswalt, that looked back on season one and also dropped hints for the upcoming season. The eight-episode Amazon Original series will be available on Prime Video in more than 200 territories around the world, and is produced by Amazon Studios and Sony Pictures Television Studios with Point Grey Pictures, Kripke Enterprises and Original Film.
Today's streaming event also contained a sneak preview of the new season, with the cast and executive producer Eric Kripke revealing the opening moments of season two.
Creator and executive producer Eric Kripke says, "We cannot WAIT to show you season two. It's crazier, stranger, more intense, more emotional. In fact, it's too much — so the Surgeon General** has insisted we air the first three episodes on September 4, then air the remaining five episodes weekly after that. We wanted to give you time to freak out, digest, discuss, come down from the high, before we give you another dose. We only have your well-being in mind. Hope you love the season as much as we do.
**No, he didn't."
Continue reading →