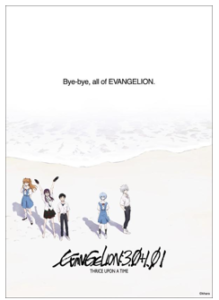 GKIDS, the acclaimed producer and distributor of animation for adult and family audiences, announced it will bring the highly anticipated fourth and final installment of the new theatrical "Rebuild" editions of the EVANGELION franchise, to theaters nationwide. GKIDS, in partnership with Fathom Events, will hold event screenings of the highly anticipated finale on December 6th, 8th and 11th only.
Tickets will be available beginning November 2nd at FathomEvents.com, GKIDS.com/EVANGELION and participating theater box offices.
EVANGELION:3.0+1.01 THRICE UPON A TIME was released in Japanese theaters in 2021, where it was a critical and box office success becoming the highest-grossing film of the year with ¥10.28 billion (~$85 million) in local box office. The release marks the first time the film will be available in theaters in North America since its domestic release in Japan.
Created by Hideaki Anno, the NEON GENESIS EVANGELION franchise is considered one of the most influential animated sagas of all time. Since the 1995 premiere of the original television series, the story of teenager Shinji Ikari has remained one of the most iconic titles in animation history, and a global pop culture phenomenon.
Following the conclusion of the beloved 1995 television show, the legendary project received new life as the EVANGELION movie series. The theatrical film series began with EVANGELION:1.11 YOU ARE (NOT) ALONE (2007), followed by EVANGELION:2.22 YOU CAN (NOT) ADVANCE (2009), EVANGELION:3.33 YOU CAN (NOT) REDO (2012), and culminating in the finale EVANGELION:3.0+1.01 THRICE UPON A TIME.