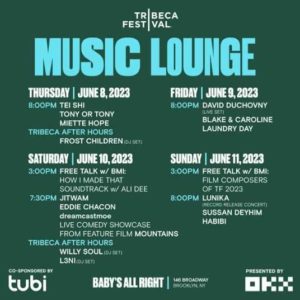 The 2023 Tribeca Festival, presented by OKX, today announced the second annual Music Lounge at Baby's All Right in Brooklyn, featuring four days and nights of exclusive performances, special guest appearances, insider talks, and more. The Tribeca Music Lounge, sponsored by Tubi, is open to the public from June 8-11 and offers Festival attendees the opportunity to experience the intersection of film and music.
The Music Lounge highlights four distinct experiences, kicking off with an "Indie Sleaze Revival" featuring New York City artists Tei Shi and Frost Children.
The weekend follows with a musical performance by David Duchovny, ahead of the world premiere of his film Bucky F*cking Dent; the first U.S. show of Australian Grammy-nominated artist Jitwam; R&B performance by the legendary Eddie Chacon; and an Iranian showcase with artists LuNika – the brother-sister duo behind the viral Iranian protest song "Women Life Freedom" – Habibi and Sussan Deyhim. The cast of Mountains is performing a comedy set, following the film's world premiere at Tribeca; and Ali Dee is moderating a conversation on soundtracks with film composers from Tribeca Festival films, in partnership with BMI.
Tribeca Festival also announced free programming, including Drag Story Hour – an afternoon of banned stories and songs for kids of all ages; a screening of Planet B-Boy (2008), and a conversation with b-boy legend Ken Swift; a master class on filmmakers' rights to their work; and a screening of the family-friendly classic Shark Tale (2004).
Continue reading →