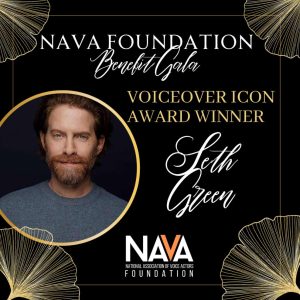 The NAVA Foundation has announced Seth Green as their 2023 Voiceover Icon Award recipient.
Seth has had an extensive voiceover career starting when he was just a kid in 1987 on the TV show Comic Strip. From there he has voiced iconic characters including Leonardo in Teenage Mutant Ninja Turtles, Jeff "Joker" Moreau in the video Game Mass Effect, and Chris Griffin on Family Guy.
As the creator, writer, and producer of Robot Chicken, Seth has not only lent his voice to dozens of characters, but he has also created work and opportunities for voice actors.
Seth will receive his award on stage at the NAVA Foundation Benefit Gala on December 6th.