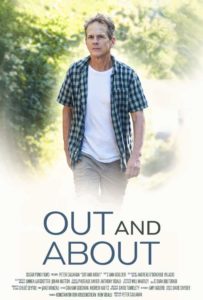 The film was written and directed by it star, Peter Callahan, whose film Against the Current, starring Joseph Fiennes, was critically acclaimed at the Sundance Film Festivasl. Producers are Ivon Visalli (High Voltage) and Konstantin von Krusenstiern (Last Ball). David Snyder is the Executive Producer.
Here's the official release about "Out And About":
Out and About is an unconventional tale about Jeff, a middle-aged man trying to come to terms with his life over the course of an afternoon walk through his hometown. Distinctive in both style and substance and told in real time, the story weaves together the protagonist's inner monologue with conversations he has with the people he encounters along the way.
Raw, brutally honest, poignant and funny, Out and About explores the contrast between our inner and outer selves, the conflict between old dreams and new realities, and one man's search for meaning as he wrestles with aging, success and failure in America, and his ultimate place in the world.
"Out And About" will be available on DVD and streaming on May 16, 2023.