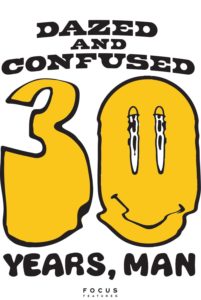 Focus Features is commemorating the 30th anniversary of Richard Linklater's critically acclaimed cult classic, DAZED AND CONFUSED, with a series of exclusive events and celebrations in honor of the beloved film's enduring impact on cinema and culture today. Written and directed by Richard Linklater and originally released in September 1993, DAZED AND CONFUSED explores the last day of school—and one wild night—in the lives of high school students in 1976. The film features a stacked ensemble cast including Matthew McConaughey, Parker Posey, Ben Affleck, Milla Jovovich, and Anthony Rapp among many others. Anniversary celebrations first commenced in April timed to 4/20 when Focus hosted more than 100 anniversary screenings at theaters in major cities across the U.S, including Los Angeles, Miami, Chicago, Austin, Washington DC, and New York City.
The DAZED fun will continue with a weekend of activity at San Diego Comic Con from July 20-23, including an immersive pop-up at the Interactive Zone where fans can purchase exclusive anniversary merch (only available at the Con), photo-opps featuring iconic scenes from the film, and themed giveaways. Fans can also relive the film through three separate screenings on Friday, July 21, Saturday, July 22 and Sunday, July 23 at the Digital Gym Cinema in downtown San Diego. During the Con, convention attendees can also enter a special sweepstakes to win a trip to Austin, TX, the film's iconic setting, for a special DAZED reunion-filled weekend. The Criterion Collection's 4K UHD DAZED AND CONFUSED Blu-Ray will also be available for purchase on site.
Additionally, Focus is partnering with Vidiots, L.A.'s legendary video store and film hub, recently relaunched at the historic Eagle Theatre, for a special DAZED AND CONFUSED takeover featuring two screenings in Vidiots' newly renovated 271-seat, state-of-the-art cinema on Saturday, July 29th Fans attending screenings will be treated to a special commemorative movie poster as well as several DAZED-themed giveaways. Beer, wine, and munchies will be available for fans all day in Vidiots' spacious lobby bar. Tickets for the Vidiots' "Dazed Day" are on sale now.
DAZED Celebrations will culminate in a jam-packed cast reunion weekend in partnership with Austin Film Society on Sept 16th and 17th in Austin, TX. Kicking off on Saturday, September 16, the Round Rock Express will host a Dazed and Confused anniversary themed baseball game with exclusive merchandise, a pre-game panel discussion with members of the film's cast and a first pitch thrown by Linklater. Then on Sunday, September 17, the Waterloo Greenway will present a special outdoor screening of the film at the Moody Amphitheater followed by a Q&A with Linklater and select cast. Tickets and more information about these Austin Film Society events can be found here. Exclusive DAZED AND CONFUSED anniversary merch will also be available for purchase through the Focus Features online store beginning July 24th.