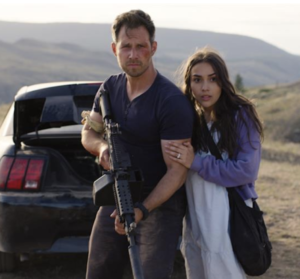 As the Festival de Cannes celebrates its 75th anniversary, IndustryWorks Studios announced today that the studio will present the action-packed and relentless film Bullet Proof to the foreign market this year at the world-renowned Marche du Film in Cannes, France. Grindstone Entertainment Group, a Lionsgate company, will distribute the film in the U.S. and Canada this summer.
Bullet Proof stars tough guy Vinnie Jones (Snatch, Lock Stock and Two Smoking Barrels) as the ruthless drug lord Temple.
The talented ensemble cast features breakout performances from Lina Lecompte ("Charmed," and Monster High), Janvier Katabarwa ('Deadpool 2, Cold Pursuit) as the deadly character The Frenchman, and a lead performance by James C. Clayton as a cantankerous criminal mind who finds himself with a big bag of money and surprisingly with extra deliverable goods.
In Bullet Proof, a thief who only looks out for number one pulls off the robbery of a lifetime when he robs the psychotic drug lord Temple. The plan goes off without a hitch until the thief discovers a stowaway in his getaway car: Temple's wife, Mia. With Temple and his top hitman, the deadly and mysterious hitman The Frenchman, in hot pursuit, and torn between making a quick getaway or taking a risky detour to help Mia escape her husband's abusive grasp, the thief finds the only way to get out alive is to drive.
Continue reading →