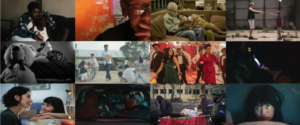 The Sundance Film Festival, a program of the nonprofit Sundance Institute, returned back in person and across the country online for 2023. Whether you gathered in theaters or are joining us from home, the Festival offers the opportunity to be a part of the discovery of stories and artists that will inspire and entertain us for years to come. The 2023 Sundance Film Festival jurors and audiences have voted with the awards announced today during an event at The Ray Theatre in Park City and updated on Sundance Film Festival's official social accounts. The award-winning films will screen in person and via the online Festival platform on Saturday, January 28, and Sunday, January 29. Tickets for all award-screening films are available beginning at 1:00 p.m. MT today.
The jury and audience-awarded prizes amplify the fearless and dynamic stories across sections, with Grand Jury Prizes awarded to A Thousand and One (U.S. Dramatic), Going to Mars: The Nikki Giovanni Project (U.S. Documentary), Scrapper (World Cinema Dramatic), and The Eternal Memory (World Cinema Documentary), and the NEXT Innovator Award presented by Adobe was awarded to KOKOMO CITY.
Voted on by the audience, Radical was granted the Festival Favorite Award. Audience Awards for films in competition were presented by Acura to The Persian Version (U.S. Dramatic) and Beyond Utopia (U.S. Documentary), and presented by United Airlines to Shayda (World Cinema Dramatic) and 20 Days in Mariupol (World Cinema Documentary). KOKOMO CITY won the audience award for NEXT.
"This year's Festival has been an extraordinary experience," said Joana Vicente, Sundance Institute CEO. "The artists that comprise the 2023 Sundance Film Festival have demonstrated a sense of urgency and dedication to excellence in independent film. Today's award winners highlight our programs' most impressive achievements in the current moment of cinematic arts. I hope you will join me in congratulating our winners, as well as thanking all artists across sections for sharing their stories with the Sundance community."
"In addition to acknowledging our artists, I want to thank this year's jurors for their time and thoughtful consideration," added Kim Yutani, Sundance Film Festival Director of Programming. "Their efforts help contextualize our artists' work beyond the Festival program and elevate their stories to new audiences around the globe. The winners themselves represent a diverse mix of bold storytelling, thought-provoking reflections, and critical representations of our world today."
Continue reading →