Hand-Drawn, Critically-Acclaimed Film is Also Winner of Top Audience Award at AFI Fest; Recognized by the Los Angeles Film Critics Association, New York Film Critics Circle, National Board of Review for "Best Animated Feature" Honors; and a Current BAFTA, Producers Guild, and Multi-Annie Award Nominee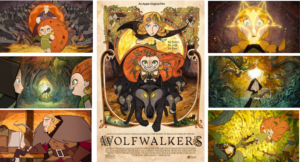 GKIDS, the distributor of multiple Academy Award®-nominated animated films, is has announced its latest, WOLFWALKERS, was nominated for an Oscar for "Best Animated Feature" this morning by the Academy of Motion Pictures Arts and Sciences. The film marks GKIDS' historic twelfth Oscar nomination since its inception in 2010. It also marks the fourth consecutive nomination—a streak in this category—for award-winning Ireland-based animation studio, Cartoon Saloon, which has made only four features films to date.
The best-reviewed animated film of 2020, WOLFWALKERS is directed by two-time Academy Award -nominated director Tomm Moore and director Ross Stewart, and is the final installation in Cartoon Saloon's hand-drawn Irish folkloric trilogy, which include "The Secret of Kells" (2010) and "Song of the Sea" (2015).
GKIDS has a long-standing relationship with Cartoon Saloon, having served as the U.S. distributor for all of the studios' Academy Award nominated films including Moore's "The Secret of Kells" and "Song of the Sea," and Nora Twomey's "The Breadwinner." In addition to handling distribution, GKIDS CEO/Founder Eric Beckman and President Dave Jesteadt are executive producers on both "The Breadwinner" and WOLFWALKERS.