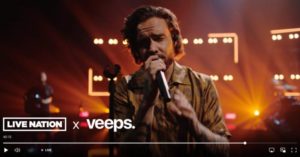 Live Nation, the world's leading live entertainment company, today announced it has acquired a majority stake in Veeps, a ticketed live stream platform custom-built for artists, by artists.
Created by Joel and Benji Madden of the band Good Charlotte, the company's artist-centric mentality has set it apart from others in the space, especially in terms of execution and monetization. The platform is designed for ticketed live streams, and facilitates enhanced engagement between artists and fans with features like chat and exclusive merch purchases, while also supporting broad social marketing and intimate VIP offerings. Veeps is also commission-free, which means artists don't pay hefty fees to use the platform and can more easily grow their careers through live streaming. Established in 2017, Veeps has continued to evolve its services based on the unique needs and requests of artists.
Veeps has helped artists make millions of dollars in revenue, drawing incredible talent from emerging artists to established acts alike, including Brandi Carlile, Liam Payne, Pete Yorn, Louis Tomlinson, Architects, Rufus Wainwright and many more. The platform hosted around 1,000 ticketed live stream shows in 2020 alone, delivering some of its highest monthly ticket sales and revenue in the back half of the year.
"We are impressed with what Benji and Joel have created with Veeps and their platform will create new ways to enjoy thousands of Live Nation concerts," said Michael Rapino, President and CEO of Live Nation Entertainment. "Live streaming is a great complement to our core business, and essentially gives any show an unlimited capacity. Looking to the future live streams will continue to unlock access for fans – whether they are tuning into a sold out show in their hometown, or watching their favorite artist play in a city halfway around the world. The most critical element of live streaming is the artist on stage, and with Live Nation's unmatched inventory feeding into Veeps, together we will help fans enjoy more live music than ever before."
Continue reading →