By Armando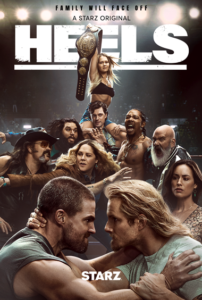 After exclusive preview of HEELS season two at San Diego Comic-Con on Saturday at the Indigo Ballroom, STARZ has revealed a new sneak peek of the series.
"Heels" is a small-town sports drama series based on a wrestling league in rural Georgia, aptly named after the wrestling term for a villain or antagonist. Most stories center around heroes vs. villains, but in wrestling, it's faces vs. heels.
Season two of the series brings fans back to the family-owned wrestling organization, Duffy Wrestling League (DWL), where brothers and rivals, Jack (Stephen Amell, "Arrow") and Ace Spade (Alexander Ludwig, "Vikings"), continue to fight over their late father's legacy and their individual versions of success, while also working to find their own identity as a "face" or a "heel."
The show invokes feelings of nostalgia akin to "Friday Night Lights," while covering topics like the effects of trauma on communities, finding personal identity, and women taking the lead in every facet. It is centered around a small-town community where everyone knows each other and everyone in town follows the saga of the Heels and Faces in the DWL.
Season two also stars Alison Luff ("New Amsterdam") as Staci Spade, Mary McCormack ("Deep Impact," "The L Word") as Willie Day, Kelli Berglund ("The Goldbergs," "The Animal Kingdom") as Crystal Tyler, Allen Maldonado (House Party, "The Wonder Years," "The Last O.G.") as Rooster Robbins, Chris Bauer ("Gaslit," "Survivor's Remorse," "True Blood") as Wild Bill Hancock, Trey Tucker ("The Outpost") as Bobby Pin, Robby Ramos ("Chicago P.D.") as Diego Cottonmouth,Alice Barrett Mitchell ("The Thing About Pam," "Billions") as Carol Spade, Roxton Garcia("Reminensce") as Thomas Spade, David James Elliott (Trumbo, "JAG") as Tom Spade, Joel Murray("Mad Men," "Shameless") as Eddie Earl, CM Punk("Mayans," "AEW Dynamite") as Ricky Rabies, AJ Mendez ("Women of Wrestling," "WWE") as Elle Dorado, Josh Segarra (Scream VI, "Arrow," "The Other Two") as Brooks Rizzo, and Emmy Raver-Lampman as Jen Lussier.
"Heels" showrunner and executive producer Mike O'Malley ("Survivor's Remorse," "Shameless") also portrays Charlie Gully on the series. Michael Waldron ("Loki," Dr. Strange in the Multiverse of Madness, "Rick and Morty") is the show creator.Christopher Donnelly (By Sidney Lumet), Pete Segal (Get Smart, 50 First Dates, Tommy Boy,"Shameless"), Patrick Walmsley (JT LeRoy), and Julie Yorn (Hell or High Water, White Boy Rick) also serve as executive producers on the series. "Heels" is produced through O'Malley Ink and LBI Entertainment in association with Lionsgate Television for STARZ.