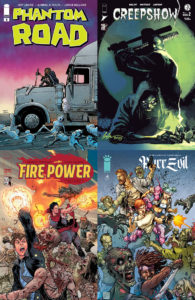 Image Comics reveals another eye-popping set of the highly anticipated team-up variants for the much buzzed about line of covers celebrating Robert Kirkman's The Walking Dead 20 year anniversary.
This round of covers includes none other than: Gabriel H. Walta, Jeff Lemire & Jose Villarrubia (on Phantom Road #6), Rafael Albuquerque (on Creepshow #2), Conor Hughes (on Void Rivals #5), Andre Bressan & Adriano Lucas (on Firepower #28), Szymon Kudranski (on Something Epic #6), Roberto Meli (on Purr Evil #4), and James Harren (on The Sacrificers #3).
The Walking Dead first launched in 2003 from Image Comics and garnered critical acclaim and an escalating sales track-record before Hollywood picked up the hot IP and the series was adapted from TV by AMC in 2010. It was also in 2010 that Kirkman teamed up with David Alpert to launch the multiplatform entertainment company, Skybound Entertainment, which would expand his—and others'—IP beyond comics into other mediums. The Walking Dead has since gone on to become a pop culture phenomenon inspiring everything from hit video games, novelizations, merchandise, and a multitude of multimedia spin-offs across the walker universe. The series has sold over 45 million copies across multiple formats and has been translated into 21 languages globally.