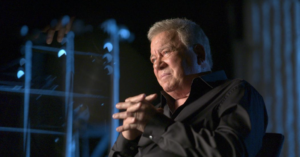 Today Legion M and Exhibit A Pictures are announcing a new documentary directed by Alexandre O. Philippe, in which William Shatner takes off the countless masks he's worn throughout his storied career, to reveal the man behind one of the most recognizable faces in the world.
In truly unique fashion, Legion M, the world's first fan-owned entertainment company, is allowing fans to invest directly in the project. Unlike a Kickstarter or IndieGogo campaign, these investors are doing more than just providing the funds to produce the film — they also own a share of any potential profits the documentary earns. Investment terms have not been released yet, but beginning today fans can sign up to make a non-binding, no-obligation reservation HERE. Reservation holders will be the first to know when the offering opens, and will be given priority if it sells out.
The producers will be providing an early look at some of the footage on pop culture's biggest stage later this month during a Hall H panel at San Diego Comic-Con featuring William Shatner and moderated by actor/director/comedian Kevin Smith ("Jay and Silent Bob" franchise, "Clerks" franchise).
At 91 years old, William Shatner is an iconic actor, artist, and astronaut(!) best known for his legendary role in "Star Trek" as Captain Kirk that spanned nearly 30 years across film and television, as well as the titular character in "T.J. Hooker" and the television series, "Boston Legal."
Continue reading →