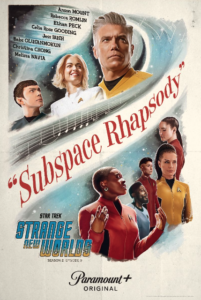 Paramount+ today revealed the upcoming ninth episode of season two of its hit original series STAR TREK: STRANGE NEW WORLDS will be a musical themed episode, the first ever in STAR TREK franchise history. The reveal was made during the STAR TREK universe presentation in Hall H at San Diego Comic-Con. In addition, a first look at the teaser trailer for the episode, titled "Subspace Rhapsody," was released during the presentation.
Following an advance screening of episode seven of the current season, the highly anticipated STAR TREK: STRANGE NEW WORLDS and STAR TREK: LOWER DECKS special crossover episode, it was announced that the episode will have a surprise early drop and be available to stream today, starting at 7 p.m. ET/4 p.m. PT on Paramount+ in the U.S. and all Paramount+ international markets exclusively on the service.
With the early drop of episode seven, the updated STAR TREK: STRANGE NEW WORLDS season-two global release schedule on Paramount+ is as follows:
Saturday, July 22 – Episode 207, "Those Old Scientists"
Thursday, July 27 – Episode 208, "Under the Cloak of War"
Thursday, August 3 – Episode 209, "Subspace Rhapsody"
Thursday, August 10 – Episode 210 (Season Finale), "Hegemony"
The special musical episode "Subspace Rhapsody" will feature 10 original songs, plus a "Subspace Rhapsody" version of the series' main title, with music and lyrics by Kay Hanley (Letters to Cleo) and Tom Polce (Letters to Cleo, Crazy Ex-Girlfriend). Please click here to pre-save the "Subspace Rhapsody" soundtrack on all available digital music streaming platforms.

In season two of STAR TREK: STRANGE NEW WORLDS, the crew of the U.S.S. Enterprise, under the command of Captain Christopher Pike, confronts increasingly dangerous stakes, explores uncharted territories and encounters new life and civilizations. The crew will also embark on personal journeys that will continue to test their resolve and redefine their destinies. Facing friends and enemies both new and familiar, their adventures will unfold in surprising ways never seen before on any STAR TREK series.
The series stars Anson Mount as Christopher Pike, Rebecca Romijn as Una Chin-Riley, Ethan Peck as Spock, Jess Bush as Christine Chapel, Christina Chong as La'An Noonien-Singh, Celia Rose Gooding as Nyota Uhura, Melissa Navia as Erica Ortegas and Babs Olusanmokun as Joseph M'Benga. Season two also features the return of special guest star Paul Wesley as James T. Kirk and new addition Carol Kane in a recurring role as Pelia.
Season two of STAR TREK: STRANGE NEW WORLDS is produced by CBS Studios, Secret Hideout and Roddenberry Entertainment. Akiva Goldsman and Henry Alonso Myers serve as co-showrunners. Alex Kurtzman, Akiva Goldsman, Jenny Lumet, Henry Alonso Myers, Aaron Baiers, Heather Kadin, Frank Siracusa, John Weber, Rod Roddenberry and Trevor Roth serve as executive producers.
STAR TREK: STRANGE NEW WORLDS is currently available to stream exclusively on Paramount+ in the U.S., the U.K., Latin America, Australia, South Korea, Italy, France, Germany, Switzerland and Austria. It airs on Bell Media's CTV Sci-Fi Channel and streams on Crave in Canada and on SkyShowtime in the Nordics, the Netherlands, Spain, Portugal and Central and Eastern Europe. The series is distributed by Paramount Global Content Distribution.