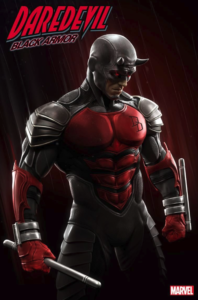 Announced last month at San Diego Comic-Con, fans will get a chance to return to Matt Murdock's armored up '90s days in Daredevil: Black Armor. Written by D.G. Chichester and drawn by rising star artist Netho Diaz and JP Mayer, the four-issue limited series will take place during Chichester's beloved run on the title. Remembered for epic storylines like "Last Rites" and "Fall From Grace," Chichester's run reintroduced Elektra to the Marvel Universe and suited up Matt Murdock in a sleek new armored costume. Now, witness a never-before-seen chapter of Daredevil that adds new depth and mystery to this fan-favorite era.
When civilians, heroes, and villains alike are disappearing into the dark depths of Hell's Kitchen underground, Matt Murdock will need to push his extraordinary senses and his armored suit beyond their limits to find out who's responsible. Throughout the saga, Daredevil will be pitted against a who's who of Marvel's deadliest villains including Hobgoblin, Sabretooth and more—all building towards an explosive confrontation with the mysterious evil that's pulling all the strings! Matt's armor will have to work overtime as the series delivers nonstop intense action and brutal fighting in extreme 90s' fashion!
"If someone told me earlier that I'd have another chance to put on Daredevil's horns (let alone horns attached to a suit of black armor) I'd have thought they'd taken one too many whacks to the head with a billy club. But apparently my passport to Hell's Kitchen still works just fine!" Chichester said. "It's an unexpected (but welcome!) thrill to visit Matt Murdock's neighborhood again, and to work with Marvel on going back in time to discover a new adventure for the man without fear.
"The Daredevil office has been incredibly encouraging in taking some wild swings with this series," Chichester continued. "Returning to Matt and Daredevil and that costume where I left them — as the writer I am now — has been an amazing experience. It's knowing how to jump off a rooftop — but accepting the challenge that you don't always know where you're going to land. I hope fans of my Fall From Grace and Fall of the Kingpin stories find more to enjoy in my take on hyper senses and heightened action — especially seen in an entirely new way thanks to the dynamite art and visual storytelling of Netho Diaz and JP Mayer."