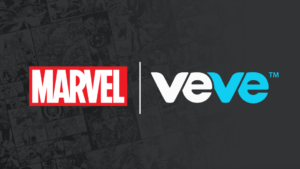 Marvel Entertainment and Orbis Blockchain Technologies Limited, a digital collectibles company operating the VeVe Digital Collectibles App, announced today a new collaboration to launch a global digital collectibles experience for millions of Marvel fans and collectors around the world in the coming months. For the first time, fans will be able to purchase and interact with official Marvel NFT digital collectibles, 3D statues, and digital comic books through mixed reality on VeVe's groundbreaking app platform.
Available on iOS and Android, the VeVe Digital Collectibles App brings fandom directly to fans wherever they are by offering a rich collecting experience. Through the VeVe Digital Collectibles App, fans can buy and collect a variety of Marvel NFTs; trade and hunt for rare (and even secret-rare) NFT comic books and collectibles; and display their hard-earned collection through fully customizable virtual showrooms.
Users will be able to purchase Gems (VeVe's in-app currency) with their credit card via in-app payments and will have the ability to cash out Gems. With Gems, users can buy official Marvel NFTs or buy and sell Marvel NFT collectibles with others in VeVe's secondary marketplace, creating a simple and accessible Marvel digital collectible experience for every type of Marvel fan.
"Since the beginning, collecting has always gone hand in hand with being a Marvel fan," said Dan Buckley, President, Marvel Entertainment. "Like us, VeVe understands collecting is about the experience just as much as the product, and we look forward to extending that experience for our fans over the years to come."
"Today, we're seeing more fans than ever gravitate toward their screens," said David Yu, Co-Founder & CEO, VeVe. "Fans want to watch and post about their favorite characters, talk about them on social media, and find ways to interact with these characters however they can. The VeVe Digital Collectibles App takes that idea of collecting to the next level by embodying that element of fun while also making the growing trend of NFT digital collectibles accessible for everyone."