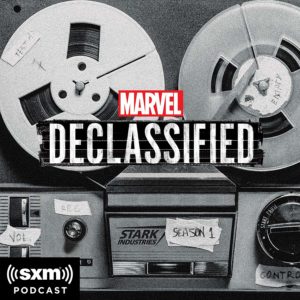 Marvel's Declassified to debut new episodes each week on SiriusXM, hosted by Lorraine Cink and Evan Narcisse
Today, Marvel launched Marvel's Declassified, its newest non-fiction narrative podcast series, exclusively on SiriusXM! For its first 10-episode season, the series focuses on the rich, dynamic, and evolving history of Marvel Comics—as told through a contemporary lens. The first episode of Marvel's Declassified is available now exclusively on SiriusXM.
Each week, writer and comic book expert Lorraine Cink (author of Powers of a Girl, co-author Marvel Absolutely Everything You Need to Know, and Ultimate Marvel) and acclaimed journalist and critic Evan Narcisse (author of Marvel's Rise of the Black Panther) will give SiriusXM listeners unprecedented access behind the scenes of Marvel Comics, featuring writers, artists, editors, and industry insiders who have shaped Marvel's iconic storytelling.
In its premiere episode, Marvel's Declassified explores a time when comedy, romance, westerns, sci-fi, and horror defined Marvel's comics, leading up to a historical shift that triggered the return of Super Heroes. Other episodes during the season will cover how New York City became the core of the Marvel Universe; the now-legendary impact of Marvel Knights, the beginnings of Marvel's vast multiverse, war-era comics, and more. The series will also shed light on the societal impact of fandom, representation, and the evolution of some of Marvel's most iconic characters like Captain America, Black Panther, the Hulk, and Captain Marvel, and what their roles meant—and can mean—for Marvel fans around the world.
Continue reading →