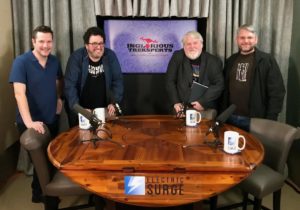 The hit podcast, Inglorious Treksperts, featuring cast and creatives from across the Star Trek Universe, can now be watched anytime on the free Electric Now streaming app on demand or weekly on the Electric Now streaming channel.
Inglorious Treksperts is part of the Electric Surge Video Podcast Network from Executive Producers, DEAN DEVLIN (Independence Day, The Librarians) and MARK A. ALTMAN (Castle, Pandora).
Hosted by the best-selling author of The Fifty-Year Mission, MARK A. ALTMAN (writer/producer, Free Enterprise) and DAREN DOCHTERMAN (visual effects supervisor, Star Trek: The Motion Picture – Director's Edition), every week Inglorious Treksperts takes a deep dive into the history of the Star Trek franchise, with special guests like Michael Dorn, Walter Koenig, Nana Visitor, Anson Mount, Bryan Fuller, Alan Dean Foster, Brannon Braga, Nicholas Meyer, David A. Goodman, and many more.
Says Altman, "Not unlike V'ger our mission is clear: learn all that is learnable, know all that is knowable about this beloved franchise and explore Star Trek in a fun and fresh new way with interviews, commentary and analysis that is positive and upbeat and not cynical, but informative."
Fans of modern Star Trek can enjoy Inglorious Treksperts sister podcast, Disco Nights, featuring co-hosts actress/activist CHASE MASTERSON (Deep Space Nine) and author/journalist RYAN C. BRITT (Phasers On Stun) as they explore the worlds of contemporary Star Trek with special guests.