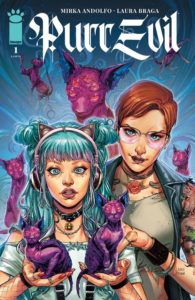 Harvey Award winning superstar Mirka Andolfo (known for her comics Unnatural, Mercy, and Sweet Paprika, alongside her work with DC and Marvel) and fan-favorite illustrator Laura Braga (artist of Harley Quinn, Future State: the Next Batman, and Witchblade) team up for the first time to bring Purr Evil to life.
Purr Evil will launch from Image Comics this July in the United States, and will be released simultaneously in Italy (Star Comics), France and Belgium (Dupuis), and Spain, Argentina, and Chile (Moztros).
Purr Evil is The Last of Us meets Hit-Girl and Léon: The Professional in a six-issue miniseries with high-adrenaline content, and is a new adventure comic produced by Arancia Studio, the Italian creative atelier which worked on Andolfo's bestselling Image Comics titles and many successful books.
"I'm very excited to see this new comic come to life," said Adolfo. "And, even more to have my friend Laura with me to work on such a great and fulfilling project, as well as Bryan Valenza, our colorist, Fabio Amelia, our letterer, and the whole team at Arancia Studio! I can't wait to find out what the fans think of our new madness, and I'm enormously grateful to Image Comics and the other international partners for believing in our crazy project. We are sure fans will love it, too!"

The story will explore an unusual mother-daughter relationship, seasoned with horror and urban fantasy elements. Can the bond of the two women overcome a life built on blood and lies? What secret is lurking in the Morando family's apartment?
Purr Evil tells the story of Rita, a young mother forced by the mistakes of her dark past to become a ruthless, cold-blooded killer, in order to defend her daughter Deb from the endless evil that looms over her. In a world on the brink of doom, the unconditional love between mother and daughter must overcome every barrier and every misunderstanding alongside blood, sweat, tears, and a tremendous lot of malevolent kittens.
Purr Evil #1 will be available at comic book shops on Wednesday, July 26:
Cover A by Braga – Diamond Code MAY230053
Cover B by Andolfo – Diamond Code MAY230054
Cover C by Peach Momoko – Diamond Code MAY230055
Cover D by Maika Sozo – Diamond Code MAY230056
Purr Evil will also be available across many digital platforms including Amazon Kindle, Apple Books, and Google Play.