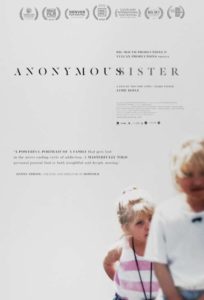 The film is from the Producer of Dick Johnson is Dead, Cameraperson, Charm City, and Trapped. Jamie Boyle's deeply personal and critically-acclaimed documentary feature From the Producer of Dick Johnson is Dead, Cameraperson, Charm City, and Trapped
Jamie Boyle's Deeply Personal and Critically-Acclaimed Documentary Feature opens in New York, Friday, June 2 at IFC Center, and Los Angeles on Friday, June 16
at Laemmle Monica Film Center.
Anonymous Sister begins in the 1980s, as the close-knit Boyle family is introduced through home movie footage of their lives in the Colorado countryside. As the years tick by, the youngest family member, Jamie, is drawn to the camera in early childhood, begging to operate it at any opportunity while her older sister, Jordan, embarks on what will become a prodigious figure-skating career.
By the time she reaches her late teenage years Jamie is documenting, in excruciating detail, Jordan and her mom, Julie, as both simultaneously descend into opioid addiction while battling chronic pain. Unbeknownst to her at the time, Jamie was capturing the reality of the opioid epidemic long before it was acknowledged or named, when it entered your home under the guise of healthcare, when those to whom we entrust our lives became the greatest threat to it.
Thirteen years later finds both family members sober and Jordan newly pregnant with her first child. The pregnancy will mark her first major interaction with the medical community since getting off opioids. Jamie once again picks up the camera as her mom and sister face new hurdles in their hard won sobriety. What she sees this time is not just a family, but an entire nation, in turmoil.
Director Jamie Boyle is a two-time Emmy-winning documentary filmmaker living and working in Brooklyn NY, the unceded land of the Lenape people. In 2019, she was selected to be part of the inaugural Sundance Talent Forum & Catalyst Lab and on DOC NYC's 40 Under 40 list. She was the editor, producer, and cinematographer of Jackson (SHOWTIME), winner of the 2018 News & Documentary Emmy for Outstanding Social Issue Documentary. Jackson premiered at the LA Film Festival and was awarded Best Documentary at over fifteen festivals.