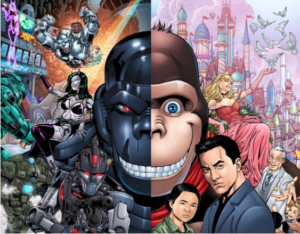 Celebrated Marvel and DC Artist to Lead the First Releases From New Publisher and Content Studio in 2023.
Returning to his roots of pioneering the first releases of a publisher that promises to change the landscape of comics publishing just as he did nearly 30 years earlier at Valiant, 247 announces Sean Chen's GENESIS, his brand new original series. 247 Comics is a new content studio where both top creators and new voices in sequential storytelling will harness the power of emerging technology for an unparalleled reading and collecting experience.
Sean Chen says "At its heart, Genesis is about two people—a scientist father and his teenage daughter—who are driven apart by contrasting ideology and then forced together by incredible circumstances. I was really inspired by the story of Steve Jobs and his troubled relationship with his daughter, which was complicated and nuanced, and goes so much deeper than, 'You were never there!' This relationship is the story engine that plays out against a series of events where you wonder if the gulf between them will ever be closed and what will be the fate of the father's soul."
GENESIS tells the story of overlooked innovator Lucas Zhang who has worked his entire life to push humanity beyond the bounds of physical limitations with his incredible developments in BCI technology, but his quest for success has come at a cost. Now in a desperate attempt to save his own humanity—and the life of his only child–Zhang unleashes a powerful new technology that is too dangerous to be trusted. Now Zhang is selling out and cashing in, and his patented masterworks are serving only two purposes—destruction and desire.

247 Comics Publisher Carl Choi says "Since picking up Sean's Rai & the Future Force #9 almost 30 years ago, I have been a fan of his which led me to his work on Iron Man, Wolverine, and most recently, Batman Beyond. When he had shared the premise of Britni and Bobo's adventures in the world of GENESIS it only made sense we would premiere with this epic title."
Connected through a collective passion for art and story, 247 represents an ever-expanding network of top creators in comics and thought leaders, trendsetters and tastemakers in technology. Through a decentralized community ownership model made possible by emerging technology, the success of each new comic series will be determined by collectors, who can directly participate in the growth and expansion of each franchise, as well 247's impact on the overall world of entertainment in all its forms from the blockchain to the bookshelf. 247 Comics promises a reading and collecting experience unlike any other.
247 Comics Product Lead Bing Kung concludes "We hear all the time that 'something' needs to change with the comic book industry" sa. While there is no silver bullet, we believe Web3 is a natural fit for evolving the comic book experience for readers, collectors, and creators to new levels. We're excited to showcase this experience with Genesis and more high quality titles throughout the year!"
Visit https://247comics.com/ to learn more, and follow the 247 Comics Twitter and Instagram, and join the community on Discord to keep up with all of the most exciting news on comics in Web3, as well as exclusive mint list access!