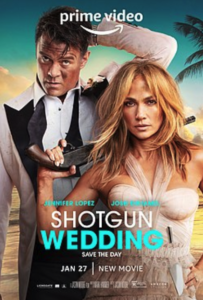 Prime Video has just release a new official trailer for Jennifer Lopez's new film, Shotgun Wedding. The film also stars recent Golden Globe winner Jennifer Coolidge and Josh Duhamel.
Directed by Jason Moore, the romantic action comedy also stars Sônia Braga, Cheech Marin, Selena Tan, D'Arcy Carden, Callie Hernandez, Desmin Borges, Steve Coulter, Alberto Isaac, and Lenny Kravitz.
Coolidge is once again the scene stealer. She plays the mother of Josh Duhamel's character Tom. "I've been looking forward to this moment ever since baby Tommy was cut out of my abdomen," Coolidge's Carol says, as wedding preparations get underway.
In the film, Darcy (Jennifer Lopez) and Tom (Josh Duhamel) get their lovable but very opinionated families for the ultimate destination wedding just as the couple get cold feet. But suddenly everyone's lives are in danger when the entire party is taken hostage. The couple must work together to save their loved ones — if they don't end up killing each other first.
Shotgun Wedding premieres on Prime Video on January 27, 2023.