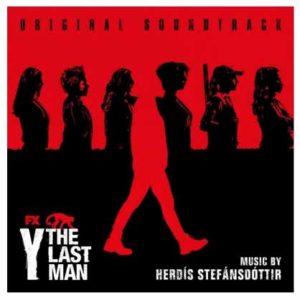 Y: The Last Man Original Score Soundtrack featuring score composed and produced by Herdís Stefánsdóttir is available today from Hollywood Records. The drama series, based on DC Comic's acclaimed series of the same name, debuted on FX on Hulu September 13. New episodes stream Mondays.
Commenting on the soundtrack album Herdís said, "The core of the soundtrack for Y: The Last Man revolves around the female voice. I wanted the voice to be the foundation of the sonic world and build around that. The score is heavily vocal and choral based but goes into a modular electronic zone and the Wild West. I drew inspiration from western cinema music to create a sound for the lawless world fusing it with the choral sound making it something of its own."
Herdís Stefánsdóttir is a composer of music for multimedia, a songwriter, and an electronic musician. Her compositional endeavors — installations in museums, dance, theatre, and a successful electronic music duet she is a part of – are establishing her as an expansive artist.

Her scoring work includes FX on Hulu series Y: The Last Man, Ry Russo-Young's MGM/Warner Bros. feature film The Sun Is Also a Star and the HBO series We're Here. Herdís was nominated for The Icelandic Music Awards for her score in The Sun Is Also A Star. She has scored numerous short films that have premiered at top-tier festivals around the world including Berlinale, TIFF, Sundance and Palm Springs International Film Festival.
A drama series based on DC Comics' acclaimed series of the same name by Brian K. Vaughan and Pia Guerra, Y: The Last Man traverses a post-apocalyptic world in which a cataclysmic Event decimates every mammal with a Y chromosome except for one cisgender man and his pet monkey. The series follows the survivors in this new world as they struggle with their efforts to restore what was lost and the opportunity to build something better.
The series stars Diane Lane, Ben Schnetzer, Ashley Romans, Diana Bang, Juliana Canfield, Amber Tamblyn, Olivia Thirlby, Elliot Fletcher, Marin Ireland and Missi Pyle.
Developed for television by Eliza Clark, who serves as showrunner and executive producer along with Nina Jacobson and Brad Simpson, Mari Jo Winkler-Ioffreda, Brian K. Vaughan and Pia Guerra. Coleman Herbert is Co-Executive Producer and Nellie Reed and Anna Beben serve as Producer. Y: The Last Man is produced by FX Productions.
Y: The Last Man is a 60-issue science fiction comic book series published beginning in 2002. It received three Eisner Awards and was nominated for the first Hugo Award for Best Graphic Story for Y: The Last Man, Volume 10.