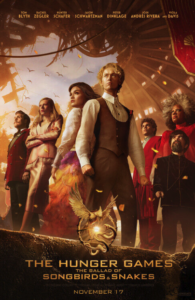 Welcome back to Panem. Lionsgate has released the second trailer for "The Hunger Games: The Ballad of Songbirds and Snakes."
The film follows a young Coriolanus (Tom Blyth) who is the last hope for his failing lineage, the once-proud Snow family that has fallen from grace in a post-war Capitol. With his livelihood threatened, Snow is reluctantly assigned to mentor Lucy Gray Baird (Rachel Zegler), a tribute from the impoverished District 12.
But after Lucy Gray's charm captivates the audience of Panem, Snow sees an opportunity to shift their fates. With everything he has worked for hanging in the balance, Snow unites with Lucy Gray to turn the odds in their favor. Battling his instincts for both good and evil, Snow sets out on a race against time to survive and reveal if he will ultimately become a songbird or a snake.
The film stars Fionnula Flanagan, Flora Li Thiemann, Honor Gillies, Eike Onyambu, Konstantin Taffet, Burn Gorman, Scott Folan, Carl Spencer, Michael Greco, Daniela Grubert, Kjell Brutscheidt, Ashley Liao, Sofia Sanchez, Josh Andres Rivera, Mackenzie Lansing, Lilly Maria Cooper, Zoe Renee, Max Raphael, Vaughan Reilly, Dakota Shapiro, Nick Benson and George Somner.
"The Hunger Games" director Francis Lawrence returns for the prequel film. "The Hunger Games: The Ballad Of Songbirds and Snakes" is set for release on November 17, 2023.