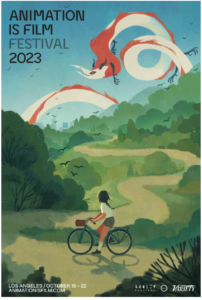 ANIMATION IS FILM (AIF) announces the 6th edition of its highly anticipated 2023 slate of theatrical presentations, special events, and shorts showcases taking place over five days, October 18-22, in Hollywood. AIF's Opening Night on Wednesday, October 18 launches with a GKIDS presentation of Studio Ghibli's THE BOY AND THE HERON, the latest film from legendary filmmaker Hayao Miyazaki, at the TCL Chinese Theatre IMAX. This marks the first time the festival will host a premiere in IMAX at this Hollywood landmark. Closing Night also celebrates the Los Angeles Premiere of Aardman's CHICKEN RUN: DAWN OF THE NUGGET presented by Netflix followed by a Q&A with Oscar nominated Director Sam Fell and Executive Producer and Oscar nominated Director of the beloved first film, Chicken Run (2000), Peter Lord.
This year, AIF continues its mission to champion animation as a cinematic artform, while recognizing and acknowledging the importance of curating successful and critically-acclaimed films from around the world. As part of the feature film line-up, two prestigious Annecy International Animation Film Festival Prize Winners, Neon's film ROBOT DREAMS (Spain, France) and GKIDS' CHICKEN FOR LINDA! (France / Italy) will make their West Coast and US debuts, respectively. PHOENIX: REMINISCENCE OF FLOWER (Japan) will make its theatrical North American Premiere, and Dreamworks Animation will host a special presentation of its latest film, TROLLS BAND TOGETHER. Other highlights are the North American Premiere of Sony Pictures Animation/Sony Pictures Imageworks' THE SPIDER WITHIN: A SPIDER-VERSE STORY, a new Spider-Verse short film, and a special theatrical presentation of the Walt Disney Animation Studios' narrative short, ONCE UPON A STUDIO, featuring iconic voices from Disney Animation's past, including Dwayne Johnson, Paige O'Hara, Jodi Benson, and Josh Gad.
"'Animation Is Film' is not just the name of our festival, it is its mission. New films from Studio Ghibli and Aardman are seismic cinematic events, and a reason for movie lovers of any medium to rejoice. Joining these titles is a collection of some of the most audacious, genre-defying, and critically acclaimed films of the year. We are so proud to present them in Los Angeles," said Matt Kaszanek, Executive Director of AIF.

This year's AIF also features a "Work-In-Progress" sneak peek at the upcoming studio release of Walt Disney Animation's WISH, centennial celebrations of Walt Disney Animation and Warner Bros. Animation, the festival's popular shorts showcase presented in partnership with Annecy and Women In Animation highlighting the best of female-directed animated films, the annual student film program, and an Aardman Animations-hosted workshop where kids can make their own clay models.
AIF will post their full schedule of films and programs to their website, AnimationIsFilm.com, and will be adding additional films, programs, and sneak peeks ahead of the festival.
"For its sixth edition, Animation Is Film is back with a great program featuring the films who received the main awards in Annecy last June. CHICKEN FOR LINDA! (Cristal for a Feature film), ROBOT DREAMS (Contrechamp Award) and 27 (Cristal for a Short film) are among a great selection of films and again we are proud to be associated with this celebration of the best in animation," said Marcel Jean, artistic director and Mickael Marin, CEO, of Annecy International Animation Film Festival.
Industry organizations returning as Animation Is Film Sponsors and partners for the 2023 film festival are: ASIFA-Hollywood, Cartoon Network Studios, Crunchyroll, Dreamworks Animation, ELMA, Fathom Events, Illumination, LAIKA, Locksmith Animation, Netflix, Nickelodeon, Paramount Animation, Pixar Animation Studios, Shout! Factor, Sony Pictures Animation, UniFrance, Walt Disney Animation Studios, and Warner Bros. Animation. Animation Is Film, founded by GKIDS and the Annecy International Animation Film Festival, presents a selection of new animated feature films from Asia, Europe, South America and North America, with both juried and audience prizes.
ABOUT ANIMATION IS FILM (AIF)
ANIMATION IS FILM (AIF) fills a gap in the U.S. market with an established world-class animation festival on par with major events in Europe and Asia, and based in the world capital of animated filmmaking—Los Angeles. By embracing the highest aspirations of animation as a cinematic art form akin to live action, AIF is an international advocate for filmmakers from around the world who push the boundaries of their work to the fullest range of the medium's artistic expression. Founded in 2017, AIF is produced by GKIDS in partnership with the prestigious Annecy International Animation Film Festival.