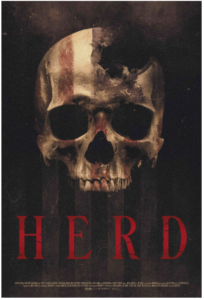 The horror action film from Dark Sky Films is set to be in theaters and on digital and VOD October 13th, with special screening and panel at New York Comic Con October 12th.
"Herd" is directed by Steven Pierce and written by. James Allerdyce & Steven Pierce. The film stars Ellen Adair (The Sinner, Homeland), Mitzi Akaha (Modern Love Tokyo), Jeremy Holm (House of Cards, Mr. Robot), Amanda Fuller (Starry Eyes, Last Man Standing), Dana Snyder (Aqua Teen Hunger Force), Brandon James Ellis (Iron Fist), Jeremy Lawson (TV's Walker, TV's The Real O'Neals), Corbin Bernsen (L.A. Law, Major League, The Dentist) and Timothy V. Murphy (Sons of Anarchy, Criminal Minds)
Here's the film's official synopsis:
When Jamie Miller and her wife, Alex Kanai, try to save their failing marriage by going on a canoe trip in rural Missouri, they find themselves stranded after an accident. Alex breaks her leg during a canoe flip and they must slowly make their way to the nearest small town for help. Upon arriving they find it has been overrun by virus-infected "Heps" and extreme right wing local militias who are battling them.
The leader of one of the groups, "Big John Gruber", shuttles them to safety at his bunker where they are welcomed by a seemingly friendly group of locals, but after witnessing personal and gruesome horrors, the women know they must escape.
Jamie and Alex now find themselves on the run, caught between the group that saved them, a competing militia, and the growing infected Hep threat.