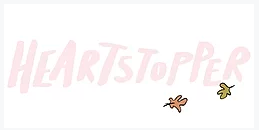 Netflix's latest queer coming-of-age rom-com, "Heartstopper", released on April 22, 2022, is earning plenty of praise. Adapted from a graphic novel by Alice Oseman, the British series follows a teenage romance between two students at a grammar school, Nick, played by Rocketman young-actor Kit Connor and Charlie, played by Joe Locke.
"It's very strange! I guess it's been quite a gradual journey, from self-publishing the book in 2016, to having it published traditionally a couple of years later, and now the Netflix show – it's just been so fun and exciting!," Oseman on a recent interview with Buzzfeed.
Adding another layer to the 8 episode series is the catchy music that plays along with Nick and Charlie's romance as well as the storylines involving their circle of friends Tao, Elle, Isaac, Tara and Darcy.
Coinciding with the release of the series is the soundtrack, which was released digitally on Spotify. "Colours of You", the official single from British artist Baby Queen, was released by Polydor Records.
Baby Queen has a recorded multiple tracks for the soundtrack, including "Dover Beach," and "Want Me", both of which played on the series' first episode, "Meet."
Other popular songs that has ben featured in the series so far include "Girls" by Girl in Red and "Tired" by Beabadoobee.
Click here to listen to the soundtrack. Heartstopper is now streaming on Netflix.
BEHOLD : the colours of you pre-save link heartstopper nation u know what to do https://t.co/eFRGx7vDgP @AliceOseman 🍂🍃❤️ pic.twitter.com/5HyENv3wMP

— Baby Queen (@babyqueen) April 19, 2022