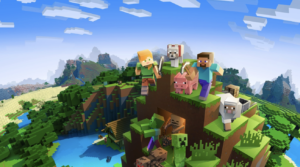 The long-planned film version of Mojang Studio's Minecraft is reportedly still happening, with a new actor attached and director, according to Report.
The "Aquaman" actor, Jason Momoa, is said to be "in final negotiations" to join the live-action movie based on the hugely popular video game, Minecraft. With more than 238 million copies sold, it is the best-selling game of all time. Napoleon Dynamite's Jared Hess will be directing, according to the report, with Dune's Mary Parent and Roy Lee producing.
The film's planned production has nearly decade-long history, with various directors attached, including Shawn Levy directing from Jason Fuch's script. Levy later left the project and was replaced by "Its Always Sunny In Philadelphia's Rob McElhenney, who also departed the film as progress in the production slowed down.
In 2019, Mojang Studios released the storyline:
"The malevolent Ender Dragon sets out on a path of destruction, prompting a young girl and her group of unlikely adventurers to set out to save the Overworld."