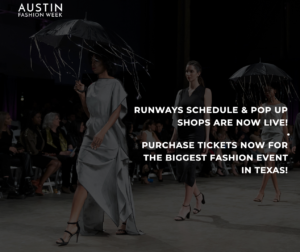 Now on its 14th year, Austin Fashion Week is set to feature a lineup of designs during three days of fashion shows and popup shops in support of local designers.
Founded by Matt Swinney, Austin Fashion Week Spring 2022 marks the return to the runway for the annual design showcase. The event is set to kick off with Fleming's Lunch on Friday, April 29, featuring Project Runway star Brittany Allen and hosted by founding Editor-In-Chief/Creative Director of Society Texas, Lance Avery Morgan.
Runway shows will be held starting Friday, April 20, followed by shows on Saturday and Sunday, April 30 and May 1, 2022, with each benefitting various charities.
The shows will be in person and outdoors at The Domain, the high-density office, retail, and residential center at 11410 Century Oaks Terrace, Austin, Texas.
For more details and tickets, go to https://fashionbyevents.com. Popup shops are open to all gusts, ticketed or not.