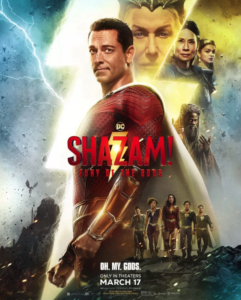 Warner Bros has revealed a second official trailer for their superhero sequel Shazam! Fury of the Gods. The upcoming DC film sequel stars Zachary Levi, Helen Mirren, Lucy Liu, and Rachel Ziegler. Levi of course plays the titular character, while many original cast members, such as Asher Angel, Jack Dylan Grazer, and Djimon Hounsou, will reprise their roles.
Along with the trailer, director David F. Sanberg has also revealed the brand new poster.
The film continues the story of teenage Billy Batson who, upon reciting the magic word "SHAZAM!," is transformed into his adult Super Hero alter ego, Shazam.
The sequel to the 2019 DC superhero film introduces the nefarious Daughters of Atlas: Lucy Liu plays Kalypso, while Oscar winner Helen Mirren stars as her sister Hespera.
"Shazam! Fury of the Gods" is set for release on March 17, 2023.
Here's the second trailer for David F. Sandberg's Shazam! Fury of the Gods: