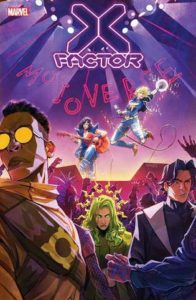 After a brief hiatus in the month of April, X-MEN AND X-FACTOR will return in May with X-MEN #20 and X-FACTOR #9. The two series will pick up right where things left off with new villains, surprising guest stars, and shocking new developments that will affect the entire mutant world as the REIGN OF X continues.
One of the most talked about books of today, X-FACTOR has answered some of the biggest questions about the X-Men's new era! The critically acclaimed series by writer Leah Williams and artist David Baldeón has been packed with unpredictable mysteries and fascinating character insights. March's X-FACTOR #8 will see the team of mutant detective's devastating battle with the Morrigan erupt in a showdown that will reach its shocking conclusion in May's X-FACTOR #9, complete with a return visit to the Mojoverse and rockstar guests: Dazzler and Lila Cheney.
The mastermind behind the current X-Man era, writer Jonathan Hickman continues to evolve the X-Men mythology in the pages of X-MEN. After taking on the Children of the Vault in March's X-MEN #19, the future of Krakoa is at stake when one of the mutantkind's greatest threats emerges. Don't miss the startling return of Nimrod.