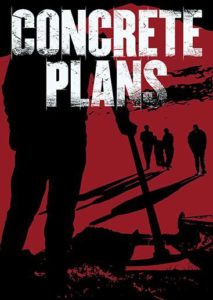 Dark Sky Films has announced that the March 5th VOD/Digital release of CONCRETE PLANS. See trailer and synopsis below.
The film stars Goran Bogdan (FX's Fargo), Kevin Guthrie (Fantastic Beasts and Where to Find Them films), Chris Reilly (Everest), Amber Rose Revah (TV's The Punisher), Charley Palmer Rothwell (Dunkirk, Darkest Hour), Steve Spiers (Star Wars Episode I – The Phantom Menace) William Thomas (Torchwood), James Lance (Apple TV's Ted Lasso).
"Concrete Plans" was written and directed by William Jewell. The film features a score by Paul Hartnoll of the legendary Orbital.
Here is the film's official synopsis:
A disparate and rugged crew of builders has been gathered to renovate an opulent mansion belonging to the last heir of a once-wealthy military family. The crewmen are each at their wit's end – broke, living in squalor, and facing their own personal demons. So when it's discovered that their employer plans to cheat them out of what might be their last chance at making ends finally meet, tensions begin to rise to a fever pitch. Soon one by one the men snap, turning first on their boss and then on each other, leading to an explosion of violence that will reveal their darkest motives and ensure that none of them will return home the same, if they return home at all.