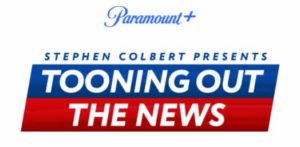 Paramount+ today released special coverage from its Emmy-nominated animated series, STEPHEN COLBERT PRESENTS TOONING OUT THE NEWS, revealing "breaking stories" out of Comic-Con@Home.
During the service's "Peak" Animation block, the satirical news program's heavy-hitting co-anchors, James Smartwood and Kylie Weaver, along with hosts Tory Hughes, Tyler Templeton, Dr. Ike Bloom and chief field correspondent James Smartwood Jr., covered cosplaying from home and addressed the latest rumors following the expanding "Star Trek" Universe, including "Star Trek: SPAAAAAAAAAAAAAAAACE" and "Trek of Easttown: The Wrath of Wawa."
Recently nominated for an Emmy in the Outstanding Short Form Comedy, Drama or Variety Series category, STEPHEN COLBERT PRESENTS TOONING OUT THE NEWS features a cast of animated characters lampooning top news stories and interviewing real-world guests. Currently in its second season, new segments are available to stream daily, culminating in a weekly full episode, exclusively on Paramount+.
The series is executive produced by Stephen Colbert and Chris Licht of CBS' THE LATE SHOW with STEPHEN COLBERT and RJ Fried and Tim Luecke from SHOWTIME's OUR CARTOON PRESIDENT.
In addition to STEPHEN COLBERT PRESENTS TOONING OUT THE NEWS, Paramount+'s growing slate of original animated series includes STAR TREK: LOWER DECKS, RUGRATS, KAMP KORAL: SPONGEBOB'S UNDER YEARS and NO ACTIVITY, as well as the upcoming THE HARPER HOUSE and STAR TREK: PRODIGY, both premiering later this year.