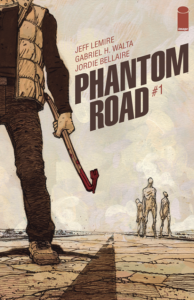 Hot new series Phantom Road—by Sentient creative team Jeff Lemire (The Bone Orchard Mythos, Little Monsters) and Gabriel Hernández Walta (The Vision, Hellboy and the B.P.R.D: Old Man Whittier)—is burning up the pavement with the first issue already wiped out completely at the distributor level and reorders escalating by the minute. Image Comics is fast-tracing the debut issue back to print this week in order to keep up with the breakneck speed of buzz for this wildly popular new title. This reprint will land on shelves same day as Phantom Road #2—just in time for customers eager to jump on board for the ride.
In an early exclusive reveal of the series, Forbes described the sizzling new grindhouse thriller as: "What do you get when you cross Stephen King's The Langoliers with John Carpenter's Big Trouble in Little China? You'd probably get something close to Phantom Road."
CBR called the new series, "a masterful use of setting, subtle incorporation of genre elements and tasteful exploration of the uncanny" while ComicsBook.com declared that it: "absolutely lives up to the hype."

The debut issue stole the spotlight many times over with local comic shop staff—such as those from Legend Comics and The Dragon—highlighting it amongst their "Pick of the Week" shout outs.
"Gabriel and I are incredibly grateful to the readers and retailers who have supported Phantom Road," said Lemire. "We are just getting started. Issues two and three blow the mythology wide open and kick things into high gear—and I can guarantee no one sees what's coming next!"
Walta added: "We are so glad that readers, retailers and reviewers liked Phantom Road! The ride has just started and it only gets better!"
In Phantom Road, Dom is a long-haul truck driver attempting to stay ahead of his tragic past. When he stops one night to assist Birdie, who has been in a massive car crash, they pull an artifact from the wreckage that throws their lives into fifth gear. Suddenly, a typical midnight run has become a frantic journey through a surreal world where Dom and Birdie find themselves the quarry of strange and impossible monsters. It's gritty horror meets high-concept supernatural fantasy.
Phantom Road #1, second printing and Phantom Road #2 will both be available on the same day at comic book shops on Wednesday, April 12:
Phantom Road #1, second printing – Diamond Code FEB238233
Phantom Road #2 Cover A Walta Diamond Code FEB230230
Phantom Road #2 Cover B Dani – Diamond Code FEB230231
Phantom Road is also available across many digital platforms, including Amazon Kindle, Apple Books, and Google Play.