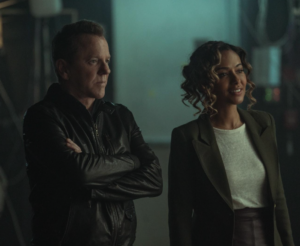 "Rabbit Hole" features a dynamic cast including Kiefer Sutherland as John Weir, Charles Dance ("Game of Thrones") as Dr. Ben Wilson, Meta Golding ("Empire") as Hailey Winton, Enid Graham ("Mare of Easttown") as Josephine "Jo" Madi, Jason Butler Harner ("Ozark") as Valence, Walt Klink ("Arctic Circle") as The Intern and Rob Yang ("Succession") as Edward Homm.
Sutherland serves as executive producer for "Rabbit Hole", alongside writer-directors John Requa and Glenn Ficarra ("This Is Us," "WeCrashed"), Charlie Gogolak ("The Sinner," "WeCrashed"), Suzan Bymel ("Designated Survivor") and Hunt Baldwin ("Longmire," "The Closer").
Per Paramount's release: in "Rabbit Hole", nothing is what it seems when John Weir, a master of deception in the world of corporate espionage, is framed for murder by powerful forces with the ability to influence and control populations.


Here's the synopsis for the upcoming episodes:
Episode 101: Pilot
John Weir navigates the twisting, turning universe of deception as both a victim and master. But after what appears to be another successful day on the job, his world is blown to pieces.
Written By: Glenn Ficarra & John Requa
Directed By: Glenn Ficarra & John Requa
Episode 102: At Any Given Moment
Triggered by the suicide of his old friend Valence and framed for the murder of Edward Homm, Weir frantically tries to piece together what went wrong the day before. The mysterious Hailey is sucked further into Weir's world as he tries to determine whether she played a role.
Written By: Glenn Ficarra & John Requa
Directed By: Glenn Ficarra & John Requa