By Armando
Every year, geeks around the world converge at Comic-Con, the 4-day event of all things about comicbooks and pop culture held every summer in San Diego. And this year is just as big and fun, not to mention hot and very sweaty as ever.
The big offerings from Marvel and DC did dominate the conversations. But with so many things happening every day all in and around the convention center, there is always something for everyone.
From trailers for upcoming studio blockbusters and tv shows, to exciting gaming announcements, to extravagant cosplays, and of course, some of the world's most talented comic artists, Comic-Con continues to surprise and delight attendees.
Here's some of the most memorable moments of from this year's San Diego Comic-Con:
Blade Runner: Warner Bros unveiled a new trailer for Blade Runner 2049″ and brought with them the cast and the director Denis Villeneuve. Warner Bros. sensational SDCC presentation at Hall H's 180-degree gigantic screens featured the upcoming "Blade Runner 2049" then later showed on stage a virtual hologram of Jared Leto.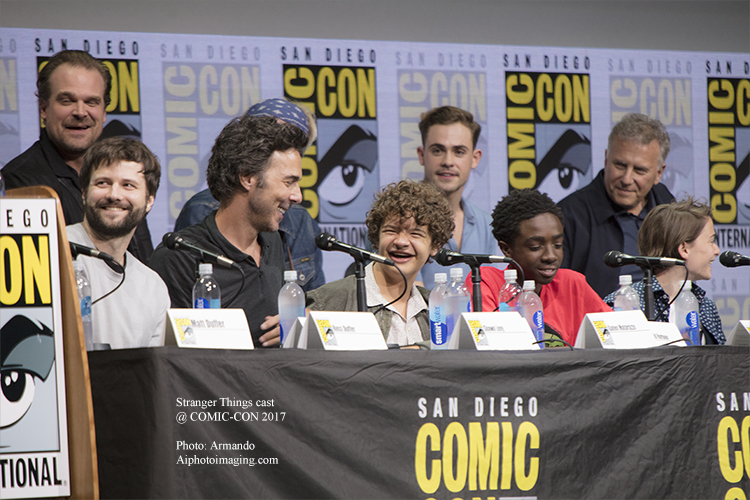 Stranger Things Season 2 Trailer: The lively and hilarious cast and creators of "Stranger Things" were in Hall H. The very entertaining group talked about the series then later unveiled a very well received a new trailer. With a touch of nostalgia to the tune of Michael Jackson's Thriller with Vincent Price's voiceover, Watching the trailer in that gigantic screen was spectacular.
Black Panther: Marvel brought in the cast of Black Panther and previewed an exclusive action-packed footage, and it was a big hit. The intense footage received immediate standing ovation from audience while cast gathered for a group hug and impressed by what they saw. I can't really blame them. Footage was fantastic!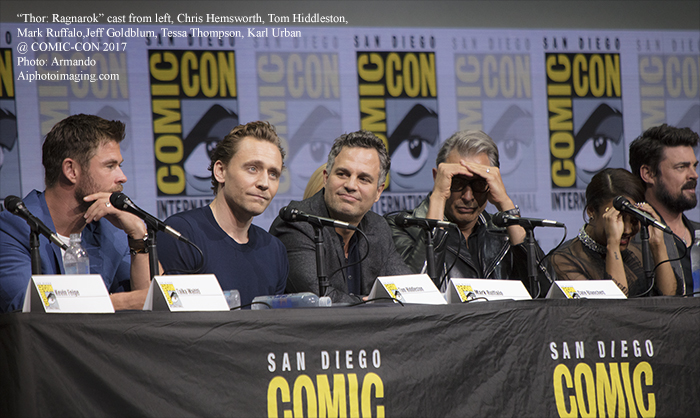 Thor: Ragnarok: Cast of the movie stormed Hall H at Comic-Con and talked about the film and revealed new details. The cast brought with them some brand new spectacular action-packed trailer and footage. Also present was New Zealand director Taika Waititi and producer Kevin Feige, who was presented with Comic-Con's Inkpot Award for his contributions to the world of comic books and everything comics fandom.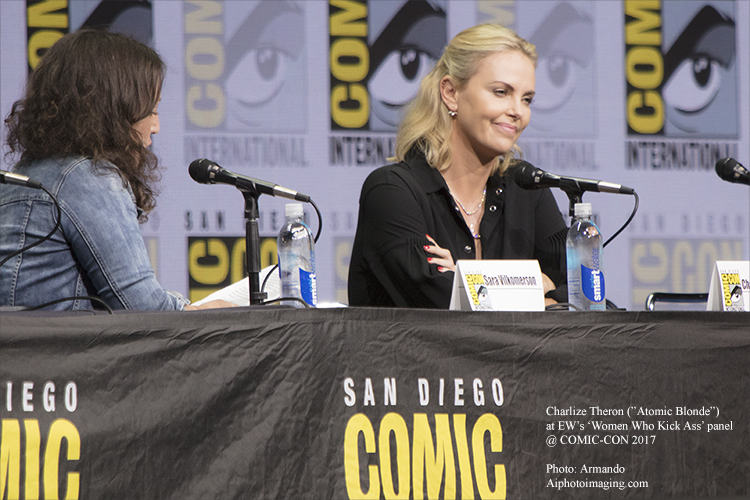 Charlize Theron: The statuesque Academy Award winner took the stage for Entertainment Weekly's "Women Who Kick Ass", and talked about her butt-kicking new character in Atomic Blonde, and the need for more female directors following the success of Wonder Woman, which was directed by Patty Jenkins who directed Theron in her Oscar-winning performance in "Monster".
Jason Momoa runs to Hall H stage carrying Aquaman's trident, shortly before the cast of Justice League arrived on stage. The guy sure knows how to entertain, pumped up the loud and excited crowd. Momoa also unveiled a short clip from the upcoming highly anticipated James Wan film "Aquaman".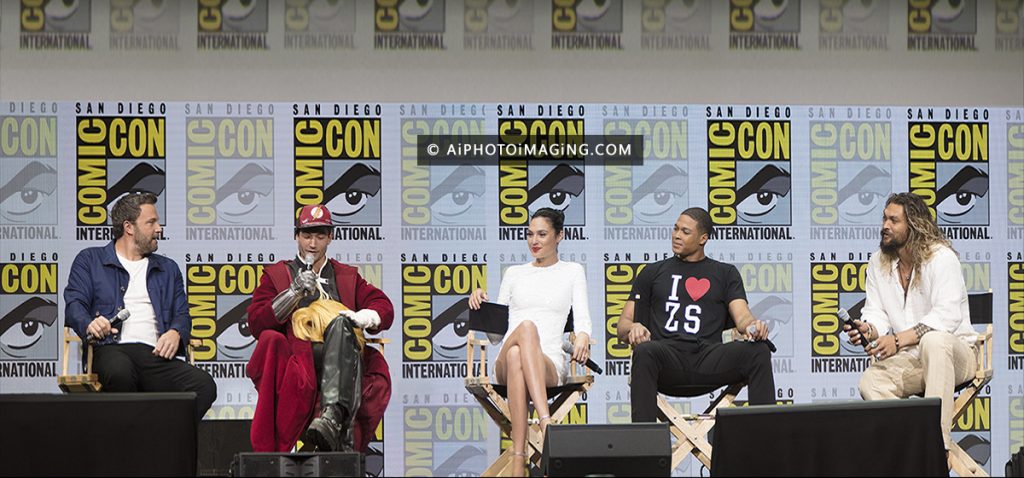 Justice League: Clearly one of the highlights of Comic-Con 2017, especially after the record breaking box-office run of Wonder Woman this summer, the Justice League cast Ben Affleck, Gal Gadot, Ray Fisher, Ezra Miller and Jason Momoa, who was already on stage by the time the cast arrived, electrified the full house of 6,000 hyperactive fans at Hall H. There was, however no talk of Wonder Woman sequel, while Henry Cavill was not in attendance.
Cosplay: There is no shortage of cool cosplay in Comic-Con as one might expect, and this year is no exception. Even with the painful summer heat and crowded long lines, San Diego brought it this year with some really cool costumes. They were all there, from Star Wars to Pennywise the Clown, from the most recognizable to hilarious, from high priced couture to home sewn, and those that just make you go hmmmmm (guys in Wonder Woman costumes were surprisingly plenty this year). And hey, its always fun to see a Darth Vader struggling to eat a cheeseburger.