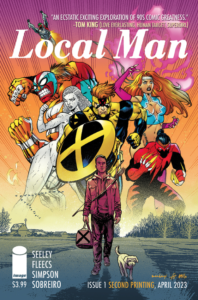 Fan-favorite creators Tony Fleecs (Stray Dogs, Star Wars Adventures) and Tim Seeley (Revival, Hack/Slash) have a hit on their hands with the popular new superhero series, Local Man. The hot debut is being rushed back to print this week in order to keep up with rapid reorder activity.
"Tony and I made Local Man because we loved it. We loved '90s Image Comics, we loved crime noir stories, and we loved the unlimited potential of the comics medium," said Seeley. "And to have it connect with readers who were hungry for something new and weird, rewarding us for loving it? Well, that's the most Image Comics thing that can happen."
Each issue of the series is a classic Image Comics "flip book"-style format with the lead story drawn by Fleecs and a superhero flashback—into the depths of the Image Universe—drawn by Seeley.
Fleecs added: "It's been so fun, seeing people's reactions to the book. I did a bunch of signings the week the first printing came out and watching people's faces light up when they realized there was a whole other comic on the flip side… It reminded me of that charge I got 30 years ago when I flipped over Youngblood #2 and saw ShadowHawk busting onto the scene for the first time."

Local Man follows the once star recruit of media sensation super-team Third Gen—Jack "Crossjack" Xaver had it all. But when controversy sends him crawling back to his mom and dad's basement in the Midwest, Jack struggles to fit into a world he left far behind. And then the bodies start piling up.
Local Man #1, 2nd printing (Diamond Code JAN239856) will be available at comic book shops on Wednesday, April 5.
Local Man will also be available across many digital platforms, including Amazon Kindle, Apple Books, and Google Play.