By Armando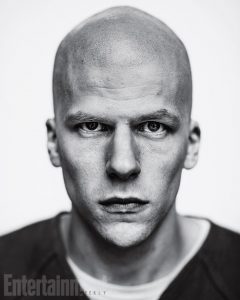 Entertainment Weekly dropped the first image of Jesse Eisenberg as villain Lex Luthor in "Batman v. Superman: Dawn Of Justice. Eisenberg plays Lex Luthor in the eagerly anticipated film.
"He's not any of the Lexes that you've seen, that's for sure," says Snyder, "other than him being a captain of industry and one person to the world and another person to himself. And bald, of course."
And while you're staring at Luthor's penetrating stare, take a closer look at Lex's eyes and you might see an image of Superman on there!
Batman V Superman arrives on March 25, 2016. Take in the full look below.