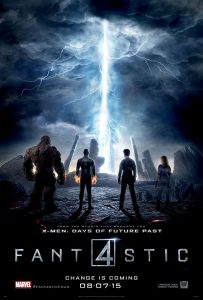 By Armando
Following the trailer that hit back in January, 20th Century Fox has released a new poster for director Josh Trank's Fantastic Four via the film's Twitter account.
Here, we see Thing, Mr Fantastic, Human Torch, and Invisible Woman, looking at at a mysterious pillar of light (which by the way also appeared in the final shots of the trailer, see trailer below), with the characters showing off their powers.
The poster further reinforce the movie's marketing that focus on its sci-fi elements than anything else, as well as the fact that it's from the same studio behind X-Men: Days of Future Past.
Josh Trank is directing Fantastic Four, which stars Miles Teller as Mr. Fantastic, Kate Mara as Invisible Woman, Michael B. Jordan as Human Torch, Jamie Bell as The Thing, and Toby Kebbell as DOCTOR Doom.
Fantastic Four is set to hit the big screen on August 7, 2015.