By Armando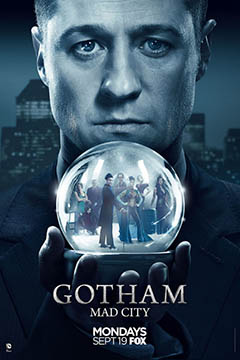 Ahead of Gotham's return on September 19, Fox has now unveiled a poster for the upcoming third season which follows a series for trailers released over the last few weeks. The poster appeared yesterday on Hollywood Reporter (below) which also reveals its title "Mad City".
Season 3 of the Bat-prequel is set to introduce us to a few new characters such as Benedict Samuel's Mad Hatter, the Court of Owls, the Tweedle brothers, among others. Jada Pinkett's Fish Mooney is also set to return, as well as fan favorite Jerome. All in all it looks like Gothan won't have shortage of excitement following its cliffhanger Season 2 finale.
Gothan Season 3 will return on Fox, Monday Sept. 19, 8pm.