By Creative Media Times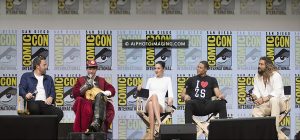 As part of the restructuring of DC Films operations at Warner Bros., production executive Walter Hamada is moving in to oversee DC Films, the studio reports.
Walter Hamada is not new to cinematic shared universes. He is one of the executive producers that spearheaded the highly successful 'Conjuring' franchise, the first installment of which was released in 2013 and was directed by "Aquaman" director James Wan. Aquaman is is the sixth installment in the DC Extended Universe and is set to be released later this year.
Hamada also executive produced this year's supernatural horror film 'It' from Warner Bros.' New Line division. He will be reporting to Toby Emmerich, President and Chief Content Officer, Warner Bros. Pictures Group.
"Walter is creative, resourceful, and committed to excellence, and will bring those qualities to his oversight of our superhero films," said Emmerich. "He's a terrific production executive and served as an executive producer on two of the summer's most popular films, New Line's 'IT' and 'Annabelle: Creation.' I'm confident Walter and Geoff, working with our filmmaking partners, will deliver films that will resonate with both broad global audiences as well as DC fanboys and fangirls. Walter's a great addition to the Warner Bros. Pictures team, and I look forward to working with him in his new post."
At New Line Cinema, Hamada worked on the production of 2009's Friday the 13th, The Final Destination, 2010's Nightmare on Elm Street, Final Destination 5, The Gallows and Lights Out.
DC Extended Universe films collectively grossed over $3.7 billion at the global box office, including last year's Wonder Woman and Justice League.