Marvel's coolest mercenary arrives this spring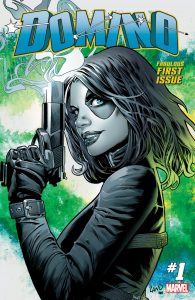 Get ready for risqué, hardcore action — the femme fatale of the Marvel Universe is BACK, and she's ready to kick butt and take names! After bringing everyone's favorite Merc With A Mouth to life with her legendary Deadpool run, acclaimed writer Gail Simone returns to Marvel ready to unleash her trademark storytelling in DOMINO, an all-new series debuting this spring.
Marvel's soldier of fortune has found herself on the wrong side of the Marvel Universe merc community. Hunted by enemies, a danger to her friends, and chased by the one man who hates her more than anything in the world, Domino must fight for her life against her biggest threat – herself.
"My favorite characters are always the unpredictable ones, and with Domino, you literally never know which way the dice are going to roll," says series writer Gail Simone. "I love her, and I can't wait to show her best bad side!"
"Domino will continue to be one of the breakout stars of WEAPON X, but fans have been clamoring to see her get the spotlight for some time now…well, your wish has been granted!" says series editor Chris Robinson.