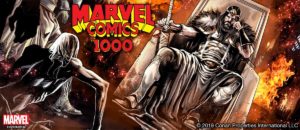 The greatest talent ever assembled for one comic book arrives this August…and its 80 pages featuring 80 different creative teams will cover every inch and breadth of the Marvel Universe in one, incredible story.
Not content to merely rampage through SAVAGE AVENGERS and elsewhere, Robert E. Howard's inimitable Conan the Barbarian will also be making a noteworthy appearance in MARVEL COMICS #1000 as well, in commemoration of the important role he's played in Marvel history. This new Conan adventure is by Ralph Macchio and Marco Checchetto.
Says Jay Zetterberg of Cabinet Entertainment, "If Crom had shown any interest in human matters, he would surely be as excited as we are to see Conan included in Marvel Comics #1000." Preview Conan's appearance now, and more information on MARVEL COMICS #1000 on Marvel.com.