By Creative Media Times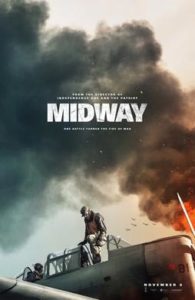 Roland Emmerich is back in familiar territory in "Midway", the director's upcoming war drama set for release later this year. Lionsgate released the film's teaser trailer today and it looks very promising.
Midway tells the story of US Navy sailors and aviators who fought during World War II's Battle of Midway, focusing on June 1942's naval battle in the Pacific theater months after the the assault on US forces at the Pearl Harbor.
The trailer ticks all of Emmerich's formula boxes that made Independence Day and The Day After Tomorrow such boxoffice hits; its looks grand-scale with plenty of action and explosions and sweeping cinematography.
The film is also stacked with big names, including Woody Harrelson, Luke Evans, Mandy Moore, Patrick Wilson, Aaron Eckhart, Alexander Ludwig, Nick Jonas, Dennis Quaid, and many more.
"Midway" is set for release on November 8, 2019.