Nickelodeon's Tales of the Teenage Mutant Ninja Turtles Teams Up with Usagi Yojimbo Creator Stan Sakai and TMNT Co-Creator Kevin Eastman on Original Specials for Season Five of the Animated Series
All-New Episode and Character Art Revealed During San Diego Comic-Con 2017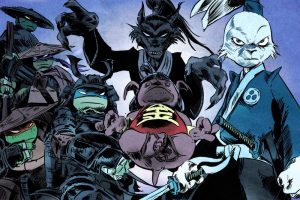 Turtles fans turned out for Nickelodeon's Tales of the Teenage Mutant Ninja Turtles at San Diego Comic-Con 2017 on Friday, July 21, where Andre Meadows (Black Nerd Comedy) moderated a panel featuring executive producer Ciro Nieli, legendary creators and collaborators Kevin Eastman and Stan Sakai (Usagi Yojimbo), Yuki Matsuzaki (voice of Miyamoto Usagi), along with series voice cast members: Rob Paulsen (Donatello), Greg Cipes (Michelangelo) and Eric Bauza (Tiger Claw).
The panel's sneak peeks included: the world premiere of a full-length episode, "Lone Rat and Cubs," written and presented by TMNT co-creator, Kevin Eastman; a clip from new episode, "Yojimbo," from the upcoming Samurai story arc; and concept art by Ciro Nieli showcasing new characters and designs of Usagi and the villains the Turtles will face this season.
The three-part Samurai arc begins Sunday, July 23, at 9:00 a.m. (ET/PT) on Nickelodeon. Fans can visit the Nick App, Nick.com, Facebook, Twitter and Instagram to learn more about Tales of the Teenage Mutant Ninja Turtles. Episodes of TMNT are available Nick.com and the Nick App, along with platforms including iTunes, Amazon Video, Google Play, Vudu and Nick On Demand.
Considered one of the most popular kids' television programs of the 1980s, Teenage Mutant Ninja Turtles is a classic, global property created in 1984 by Kevin Eastman and Peter Laird. It first debuted as a successful comic book series and then became a hit animated TV show, a live-action television series and later spawned numerous blockbuster theatrical releases. Since its launch in 2012, Nickelodeon's all-new CG-animated Teenage Mutant Ninja Turtles has re-energized these iconic characters of this wildly popular franchise. Teenage Mutant Ninja Turtles is seen in over 170 countries and territories and translated in 45+ languages.
@Nickelodeon @TMNT