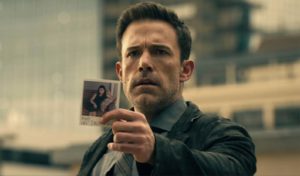 The film follows Austin detective Danny Rourke who, determined to find his missing daughter, instead finds himself spiraling down a rabbit hole while investigating a series of reality-bending bank robberies where he will ultimately call into question his most basic assumptions about everything and everyone in his world.
Aided by Diana Cruz, an unnervingly gifted psychic, Rourke simultaneously pursues and is pursued by a lethal specter – the one man he believes holds the key to finding the missing girl – only to discover more than he ever bargained for.
Solstice Studios, Ingenious Media and Studio 8 present Hypnotic, a Double R production of a film by Robert Rodriguez. The mind-bending thriller stars Academy Award winner Ben Affleck (Air) as Danny Rourke, an Austin detective determined to find his daughter with the aid of psychic Diana Cruz (Alice Braga; Queen of the South), whose investigation will lead him to question his most basic assumptions about his world and everyone in it.
The ensemble includes: JD Pardo (Mayans M.C.) as Rourke's partner, Nicks; Hala Finley (Paradise Highway) as his missing daughter, Minnie; Dayo Okeniyi (Rise) as tech wiz cum conspiracy theorist, River; Jeff Fahey (Lost) as Carl; Jackie Earle Haley (Alita: Battle Angel) as the reclusive expat Jeremiah, and William Fichtner (The Dark Knight) as the enigmatic figure Rourke pursues to unravel the mystery behind it all.
Hypnotic is produced by Mark Gill, Guy Botham, Lisa Ellzey, Jeff Robinov p.g.a, John Graham, Racer Max and Robert Rodriguez p.g.a.. The executive producers are: James Portolese, Joshua Throne, Maitreya Yasuda, Crystal Bourbeau, Vincent Bruzzese, Beth Bruckner O'Brien, Peter Touche, Christelle Conan, Gareth West, Chris Milburn, Artur Galstian, Vahan Yepremyan, Walter Josten, Patrick Josten and Jordan Wagner. The co-executive producers are Ryan Basford, Court Coursey and Caylee Cowan.
"Hypnotic" is set to debut in theaters on May 12.