By Armando

One of Marvel's highlights in Hall H at Comic-Con is that of Thor: Ragnarok's panel which consists of cast members Chris Hemsworth, Tom Hiddleston, Mark Ruffalo, Cate Blanchett, Jeff Goldblum, Tessa Thompson, Karl Urban and Rachel House.
Also present was New Zealand director Taika Waititi and producer Kevin Feige, who was presented with Comic-Con's Inkpot Award for his contributions to the world of comic books and everything comics fandom.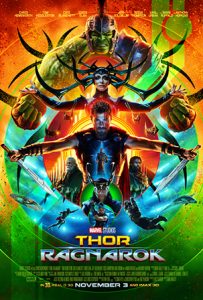 The panel also presented to a very enthusiastic fans an exclusive extended footage from the film, followed by the actual trailer which shows plenty of action including a tag-teaming Thor and Loki, as well as the introduction of Hela and Valkyrie, and a talking Hulk to top it all off. As seen on the film's previous trailers, one of its highlights shows Thor in a gladiatorial duel against the Hulk.
A new poster for the film was also unveiled, a copy of which were given away to Hall H attendees.
Ragnarok is the third Thor film, a sequel to 2011's Thor and 2013's Thor: The Dark World and is part of the Marvel Cinematic Universe. Thor: Ragnarok comes out on November 3, 2017.